Event Sanctioning Policy
---
Definitions/Glossary of Terms
The following terms have meaning in this policy:
"BNS" - Basketball Nova Scotia.
"Club" - Organizing group that applies for sanctioning and establishes teams for youth /adults to play. Can consist of board members and volunteers.
"Duty of Care" - The concept of duty of care identifies the relationship that exists between two persons (e.g. two individuals, an individual and an organization) and establishes the obligations that one owes the other, in particular the obligation to exercise harm. The duty of care arises from the common law, as well as municipal, provincial, federal and international statutes.
"Emergency Action Plan (EAP)" - The purpose of an EAP is to facilitate and provide structure for emergency situations.
"Good Standing" - Completed registration and paid applicable fees by established deadlines and adhere to Basketball Nova Scotia's policies and procedures.
"Individual" - Refers to any person involved in Basketball Nova Scotia events. This includes but is not limited to athletes, team managers, officials, and club board members.
"Leagues" - Any community, club or recreational league.
"Liability" - Liability refers to the duties, obligations or responsibilities imposed on a person by common law or by statute. As it is commonly used, we speak of a person or organization being held legally liable for something. Example, through a legal action or inaction in a particular set of circumstances and is required to pay damages to someone harmed as a result.
"Long-Term Athlete Development" - Describes what athletes need to be doing at specific ages and stages as set out by Canada Sport for Life.
"NSBO" - Nova Scotia Basketball Officials. The governing body for licensed basketball officials in Nova Scotia.
"Provincial Sports Organization" or "PSO" - A not-for profit organization that is recognized by our National Sport Organization (Canada Basketball) as the governing body for their basketball in the province of Nova Scotia.
"Sanctioning" - The act of approving by governance all on-court basketball activities. This includes quality control of the event and by ensuring that all individuals are in good standing and therefore covered by insurance.
"Sanctioned Organization Affiliate" - An organization where all players, coaches, board members and staff are all members in good standing.
"Sanctioned Event" -

Organizers are affiliated members and completed the "Event Sanctioning Form".
Fees have been paid in full by established deadlines.
On court basketball activity involving one or more clubs in good standing.
Officiated by NSBO approved officials.
Has a clearly defined start and end date.
Identified divisions of play and rules for each league or tournament.
FIBA rules will be the baseline for all events with appropriate modifications relative to age appropriate level of play. These modifications can be found on the Basketball Nova Scotia website and can be adjusted with approval from Basketball Nova Scotia specific to each event.

"Standard of Care" - The standard of care refers to the degree or level of service, attention, care and protection that one person owes another according to the law, usually the law of negligence. The required standard varies according to the circumstances of each situation, and determining the appropriate standard is often not a simple matter.
"Vulnerable Person" - This term is used to denote individuals who have difficulty protecting themselves and are therefore at greater risk of harm. People may be vulnerable because of age, disability or handicap, or circumstances. Vulnerability may be a temporary or a permanent condition.
Introduction

2. Basketball Nova Scotia (BNS) is a Provincial Sports Organization promoting & developing recreational & competitive basketball throughout Nova Scotia. We strongly believe in fostering the development of our members, affiliate clubs, coaches, officials, parents and especially the athletes. The Sanctioning Policy establishes and enforces proper and inclusive standards through effective governance to ensure all basketball event participants are competing in safe environments with proper insurance coverages to protect vulnerable persons. The sanctioning policy ensures that events meet our development criteria and follows our rules and guidelines to be in place for basketball events.
Purpose
3. BNS is committed to supporting sanctioned events that adhere to the association's policies and guidelines and that follow our rules and regulations supporting Long-Term Athlete Development (LTAD). BNS's reason for implementing the Events Sanctioning policy is to allow coaches, athletes, parents & guardians assurance that an event they enter is one that is providing a safe and supportive environment and a positive basketball experience.
Application of this policy
4. This policy will apply to groups who are not BNS Affiliate Clubs for the current season (Sept 1 - Aug 31 of the current year), as displayed on the Basketball Nova Scotia Website. This could be associations or personal programs that do not operate year-round or who are looking to run one-off events in our province. Any BNS affiliate club who is running a program, has the ability to access any of the below benefits by contacting the Basketball Nova Scotia office.
Goals of this policy
5. The goals are this policy are as follows:
To ensure all events sanctioned by BNS adhere to appropriate safety and governance standards.
To provide guidance when running sanctioned basketball events.
To provide consistency for our affiliates when entering basketball events.
To ensure a safe and fun environment for players, coaches, officials and spectators.
To ensure sanctioned events are running in the best interest of all BNS affiliates and adhere to the development of the athletes, coaches & officials and promote positive basketball experiences as the number one priority.
Benefits of this policy

6. The benefits of this policy are as follows:
Liability & Accident Insurance for all parties involved.
Promotion: BNS Social Media, Newsletter, Website, etc.

Over 4,500 followers on all channels + 85 clubs presidents & their associated participants, as they deem appropriate, of approximately 8,000 basketball participants.

Access to the BNS Event Hosting Package:

Local contact list connection; facilities, volunteers, officials, score keepers, coaches
Event check list
NSBO contact for certified officials
BNS staff

Access to NSBO certified & insured officials.
Assurance of Coaches Screened as a category 2 coach, per BNS Coach Screening Policy.
Increased prestige & approved standard of care for all individuals.
Access to BNS policies & guidelines and access to disciplinary procedures and committees through BNS (including code of conduct, discipline, etc.).
Event posted on the Basketball Nova Scotia website as an approved Sanctioned Event.
Eligibility
7. Any association or group applying for an Event Sanctioning must follow the below protocol to meet our eligibility criteria:
All athletes are Basketball Nova Scotia Affiliates
All coaches are Basketball Nova Scotia Affiliates as a category 2 coach. This requires them to follow the Coach Screening Policy & fill out the BNS coach import file, as given to them by their club affiliate president or event organizer.
BNS Sanctioned events are governed by the same FIBA adjusted rules and regulations as the provincial championships, unless otherwise approved.
Athletes must be registered by specific deadlines, as outlined in section 8.
Provide an EAP, as part of your application.
Alcohol service or consumption is not permitted for youth events.
Alcohol service or consumption for adult events must have appropriate licensing and is not insured by BNS.
Must follow BNS policies (as outlined on the BNS website).
Equipment (game balls, score clocks, etc.) must be approved by BNS.
Must have an event convenor on site.
Host must pay sanctioned events fee, as outlined it the chart in section 8
Fee Structure
8. The below fee structure applies to all Event Sanctioning. The number of individuals outlined refers to athletes only. The fees below allow access to all benefits as outlined in section 6.
SANCTIONING FEES

REGISTRATION

FEE

(Up to 250 individuals)

FEE

(Over 250)

DEADLINES

Event
$50
$100
30 days
Eligibility
9. Event application (l) is due 30 days prior to the first day of the event.
Item
Deadline
Online Event Sanctioning Application.
30 Days before
Sanctioning fees due (before due date, late fees below apply)
30 Days before
A copy of the final event outline.
10 Days before
Participants receive the final event schedule and details.
7 Days before
Confirmed participants list, to be cross referenced with BNS affiliates to ensure all participants have accident insurance.
7 Days before
Deadline and Late Fee's
10. Participants are responsible for completing their registration and payment of fees a minimum of 15 days prior to their first organized on-court basketball activity. If participants are currently associated with an affiliate club and have paid their $25 affiliate fee, then that covers them for the following sanctioned event. If this is an adult program or league, please reach out to bnsoperations@sportnovascotia.ca to access your registration form and the fee is $10 per participant. In the event of a late registration, teams must apply as set out above with all completed registration documents and fees, plus an additional late fee of $50.
Refunds
11. Below outlined the areas where refunds may be applicable:
Refund requests related to any fees paid to BNS must be submitted in writing and must be approved by BNS. All refunds will be reviewed on a case-by-case basis.
If a refund has been approved, it will be submitted to finance for processing. All refunds will be paid by cheque and need 4-6 weeks for processing.
No refunds will be processed post event.
Any events cancelled by BNS will be refunded at 100%.
After BNS fiscal year end (August 31st of the current year), refunds will no longer be issued.
Standard Violations and Penalties
12. Basketball Nova Scotia may refuse or cancel a sanctioned event for the following reasons and can result in future disapproval of a sanctioned application:
Poor organization, hosting, or running of an event.
Failure to follow BNS set policies.
Late or incomplete sanction request.
Failure to pay sanctioning fees.
Being deemed a member not in good standing.
Any other matters that may damage the basketball reputation or reasonable safety concerns.
Sanctioning Responsibilities

13. BNS expects all of its sanctioned events to maintain 'good standing status' and to abide by all of the statements detailed in this document. Those not abiding by these policies and statements face the risk of losing sanctioned status.Visit the BNS website to complete all necessary online forms.

Individual Affiliations
14. All team managers, officials, and club board members participating in BNS events and/or signed to a BNS team roster are required to become affiliates of BNS (or their provincial governing body). When registering to be an affiliate of BNS, it is the responsibility of the club, the team, and the individual to ensure that the contact information is up to date. In the case of a complaint about a player's age eligibility and/or authenticity, the team contact will be required to supply BNS with a copy of a birth certificate and/or other government issued ID containing their birthdate within 1 week of being requested.
Event Affiliations
15. All organizations must complete the Event Sanctioning Application prior to their first organized on-court basketball activity. The cost to become an affiliate is $25 per athlete for multiple events or $10 per athlete for one-off or adult event, if athletes are not already affiliated through a club or as approved by Basketball Nova Scotia. This includes completing all required club import file forms to ensure proper insurance coverage. There is no fee for coaches to be covered, although, they are required to provide the proper import file information that includes proper background checks as outlined by the Basketball Nova Scotia Coach Screening Policy.
Basketball Nova Scotia Policies
16. Basketball Nova Scotia policies will be required to be upheld by all participants of sanctioned BNS events. Failure to do so puts participants at risk for the loss of sanctioning. BNS policies can be found on the Basketball Nova Scotia Site.
Review

This policy will be reviewed by Basketball Nova Scotia to ensure that all basketball events happening in Nova Scotia have been filtered and meet the standards of basketball in our province.
This Policy was last reviewed and approved January 29, 2020.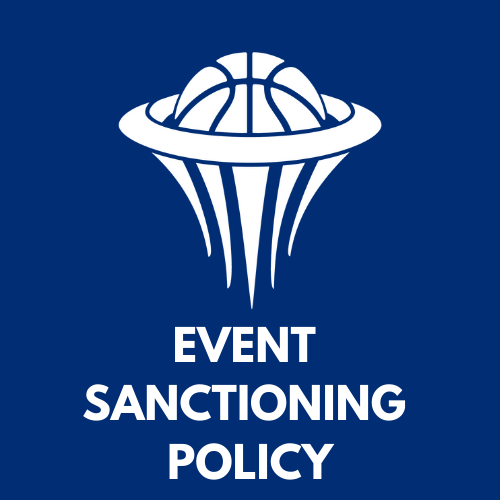 Click the image above to for downloadable PDF.