Member Clubs
---

If you want to be a part of Nova Scotia basketball or it's your first time participating, join a community club!
Confirm the region of the province you are located using the map below.
Find that list of clubs under that region.
Contact the Club President or visit the Club's website or Facebook page to learn more about their programs and get playing!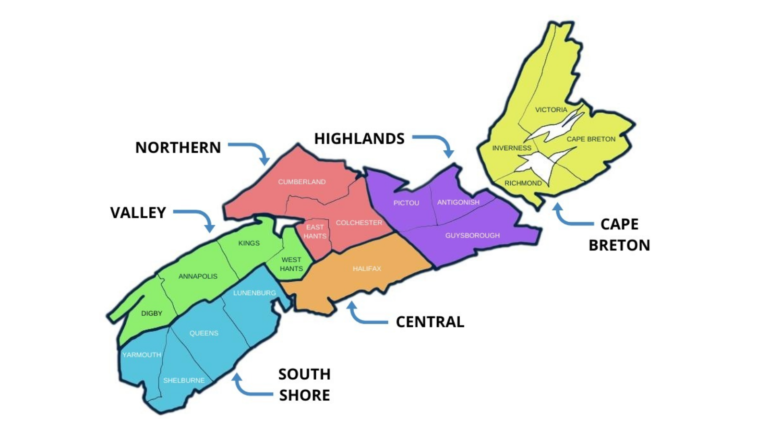 Central Region
| | | |
| --- | --- | --- |
| Club | President/Key Contact | Email |
| | Brian Allt | bmbaregistrar@gmail.com |
| | Robin Veinotte | president@rocketsbasketball.ca |
| Community YMCA Panthers | Christine Buckley | christine.buckley@halifax.ymca.ca |
| | Mike Moores | mmoores23@hotmail.com |
| | Chris Burke | dartmouthlakersbasketball@gmail.com |
| East Preston Pacers | Jayvon Higgins | Jayhiggs902@gmail.com |
| East Preston Majors Basketball Club | Esther Williams | chris_fagan25@hotmail.com |
| | Jaimi Baker | jaimibaker@yahoo.ca |
| | Janet Heppell | evolutionbballacademy@gmail.com |
| Fairview/Clayton Park Minor Basketball | Jim Gannon | jimhgannon@gmail.com |
| | Roberta Sullivan | robertaandmatt@gmail.com |
| | Shane Mailman | shane@furybasketballns.ca |
| | Margo Chaisson | hhbasketballclub@gmail.com |
| | Cher Smith | HWCBBC@gmail.com |
| | Morgan Knickle-Smith | melbaleague1@gmail.com |
| North Preston Minor Basketball Association | Corvell Beals | karenprovo@yahoo.ca |
| Norwood Knights | Sandie Hebb | sandiehebb@gmail.com |
| | Eden Morante Maglasang | aytan0608@yahoo.com |
| | Bradley MacRae | prospectbulls1@gmail.com |
| | Tabatha Dale | smbapresident@mail.com |
| | Andrea Johnston | faye@slambasketball.ca |
| West End Steelers | John Hope | john.hope@dal.ca |
| One Sport/ All Nova Scotia Basketball | Jodi Brown | NovaScotiansHelpingNS@gmail.com |
Northern/Fundy Region
| | | |
| --- | --- | --- |
| Club | President/Key Contact | Email |
| | Cayne Amos | cayne.amos9@gmail.com |
| | Elysee Swim | cba.trurobball@gmail.com |
| Cobequid AOT Storm | J.Steve LaLonde | aotstormhoops@gmail.com |
| | Mike Ortiz | ortizalanm@hotmail.com |
| Cumberland hornets | Kris Reid | forthree2won@outlook.com |
| | Paul Preiss | president@ehhavoc.org |
| Junior Mounties | Thomas Skabar | skabartb@ccrce.ca |
| Oxford Minor Basketball Association | Andy Doucette | oxfordminorhoops@gmail.com |
| | Nicki Murphy | nickimurphyl@hotmail.com |
| | Kevin Jones | jonesk@bellaliant.net |
| Greenwood Minor Basketball | Johnathon Wilson | president.gmbc@gmail.com |
Valley Region
Club

President/Key Contact

Email

Atlantic Academy Prep Basketball

Nick Veinot


Marc Ffrench

mffrench@atlanticacademy.ca

Hansport Minor Basketball Association

Bandon MacInnis

brandon.macinnis@hotmail.com

Kentville Men's Basketball

Lawrence Lake

lglasinc@gmail.com

Tanya Berry

tanya.berry@gbstech.com

Tim Bachiu

shootingstar@shootingstarbasketball.ca

Valley Spartans Basketball

Nick Veinot

nickveinot@hotmail.com

Valley Stingers

Les Berry

les.berry@gbstech.com

Valley Heat

Evan Fletcher

valleyheatbasketball@gmail.com

Axe Basketball

Len Harvey

len.harvey@acadiau.ca
South Shore Region
| | | |
| --- | --- | --- |
| Club | President/Key Contact | Email |
| | Gerry Faber | gerry_faber@hotmail.com |
| Shelburne County Basketball Association | Danyelle Rapp | basketballshelburne@gmail.com |
| South Shore Lightening Basketball Association | Mustapha Maynard | southshorelightning@gmail.com |
| South Shore Surf Minor Basketball | Corey Lohnes | ssminorbasketball@gmail.com |
| Yarmouth County Minor Basketball | Adam Graham | melissa.brown@gnspes.ca |
Highlands Region
| | | |
| --- | --- | --- |
| Club | President/Key Contact | Email |
| | Maria Fraser | antigonishbasketball@gmail.com |
| Pictou County Raptors Basketball Association | Maureen MacDonald | pictoucountyraptors@gmail.com |
| Pictou County Lightning | Dawn Hodgson | dawnbhodgson@gmail.com |
Cape Breton Region
| | | |
| --- | --- | --- |
| Club | President/Key Contact | Email |
| | David Ogbuah | david.ogbuah@basketballcapebreton.com |
| Cape Breton Sirens | Wade McNeil | info@wmcneil.com |
| New Waterford Strands | Kendra Grant | dale@aliant.ca |
| New Waterford Strands | Kendra Grant | kendragrant@hotmail.com |
| PUSH Cape Breton | Tyrone Levingston | info@pushcb.com |
| Inverness Minor Basketball Association | Phil Blackwood | philblackwood@gmail.com |
| Richmond Minor Basketball Association | Warren Olsen | warren.olsen@csap.ca |