Safe Sport
---
Commitment to providing safe environments.
Everyone has the right to participate in a sport environment free from maltreatment.
Athletes, coaches, officials, parents and volunteers should always experience the positive benefits of sport without worrying about inappropriate behaviour. Practicing safe sport means ethical and appropriate engagements between all participants. This means supporting the physical, social and emotional welfare of everyone.
| | |
| --- | --- |
| | Basketball Nova Scotia has taken the pledge to commit to the Responsible Coaching Movement. |
The Responsible Coaching Movement (RCM) is a call to action for sport organizations, parents, and coaches to enact responsible coaching across Canada - on and off the court.
The RCM is a multi-phase movement that affects all sport organizations and coaches across Canada. It stems from extensive and ongoing consultation with the sport community in Canada that showed us some of the systemic issues in sport, the role various parties play, and strategies for addressing these issues.
The Coaching Association of Canada and the Canadian Centre for Ethics in Sport support the Canadian sporting community in improving practices that ensure the health, safety and well-being of all participants.
Basketball Nova Scotia takes three Steps to Responsible Coaching
The Three Steps to Responsible Coaching help participants and coaches benefit fully from sport participation in a safe, healthy, and fun environment. This methodology is a call to action for coaches and sports organizations to learn and apply consistent best practices in coaching.
This requires all Basketball Nova Scotia affiliated clubs to adopt the following Basketball Nova Scotia policies and to adopt minimum coach education standards, as outlined in our Coach Screening Policy.
Canadian Sport Helpline
The Canadian Sport Helpline is a national secure and confidential listening and independent service for victims and witnesses wishing to share or obtain information regarding harassment, abuse, and discrimination in sport. A team of practitioners with expertise in counselling, psychology, and sport will act as Operators of the Canadian Sport Helpline. Victims and witnesses may access the toll-free Helpline from 8 a.m. to 8 p.m. (ET), 7 days per week by telephone, text, live chat, or email in both official languages.
Anyone with a concern should feel comfortable reaching out to this free and confidential service. Additional information on their service and how to contact them can be found at: http://abuse-free-sport.ca. The abuse free sport phone and texting line is accessible at 1-888-83-SPORT, or by email at info@abuse-free-sport.ca.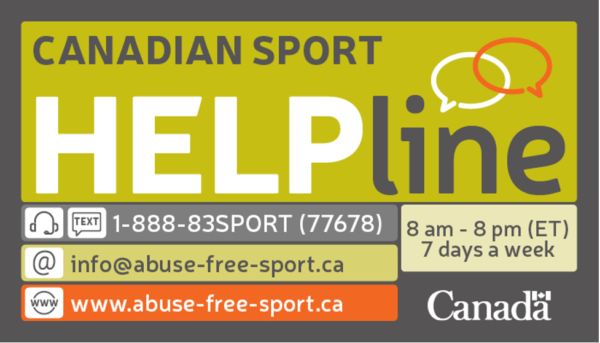 Basketball Nova Scotia is working with our partners in Canada Basketball & Sport Nova Scotia around moving safe sport forward. Click on the links below for additional partner resources.